First, sorry for being tardy, but if you want to attend a rally today there is still time.  Here are three –
PALMDALE –

Saturday, July 29, 2017 8:30 AM – 10:30 AM PDT

Location:

Corner of 10th Street West and Rancho Vista Blvd

(Palmdale, CA)

1233 Rancho Vista Blvd

Palmdale

Palmdale

,

CA

93551

Directions:
We will meet on the Corner of 10th Street West and Rancho Vista Blvd in Palmdale, Ca
LOS ANGELES –
Time:

Saturday, July 29, 2017 11:00 AM – 1:00 PM PDT

Host:
Our Lives On The Line
Location:

1st & Broadway

(Los Angeles, CA)

120 N Broadway

Los Angeles

,

CA

90012
RANCHO PALOS VERDES (TRUMP GOLF COURSE)
Time:

Saturday, July 29, 2017 11:00 AM – 12:00 PM PDT

Host:
Mark Feinberg
Location:

Trump's National Golf Course

(Rancho Palos Verdes, CA)

Palos Verdes Dr. South and Trump National Drive

Rally at the corner by the big Trump sign

Rancho Palos Verdes

,

CA

90275

Directions:
We will rally at the corner of Palos Verdes Dr. South and Trump National Dr. (yes, really). In front of the large Trump sign.
MESSAGE FROM INDIVISIBLE NATIONAL – Because of your sustained, organized pressure, members of Congress (MoCs) are on notice that they have to think about their constituents. MoC's recognize your power, and they fear it. And how they talk, how they act, all flows from that.
Sen. Susan Collins was a rock from almost the beginning, because Maine groups traveled hours across the state to visit every one of her offices, and kept up the positive reinforcement after she said yes.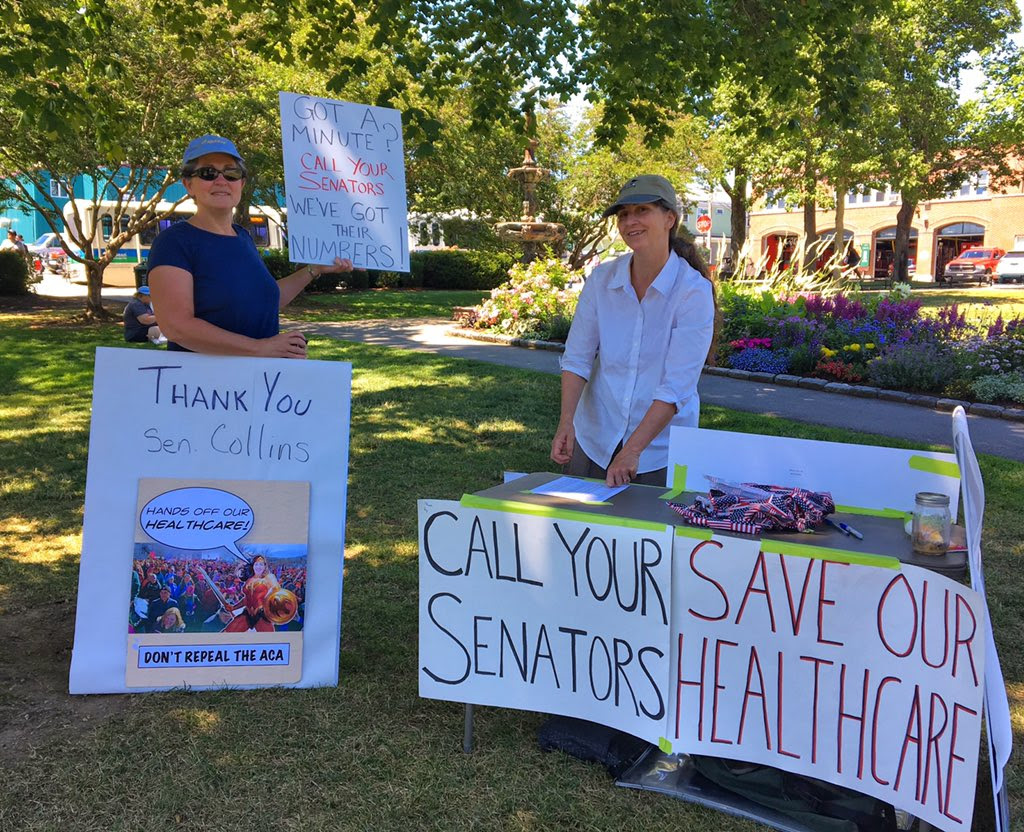 In Alaska, the groups worked with partners and turned out from Wasilla to Anchorage, again and again, and gave Sen. Lisa Murkowski the political cover she needed.
And Arizona showed up in 110 degree weather; they turned out 100 people on 24 hours notice to Sen. John McCain's office in Tucson yesterday, asking him to be a hero.
But this wasn't only about those senators. This was a win from every district, made up of the work of every group. You were the power that gave Senate Minority Leader Chuck Schumer and the Democrats the spine to withhold consent. And you were the ones who framed the entire conversation again and again, making each successive version of the bill politically toxic. You were the ones who made it so that every single member of the Senate had to reckon with real pressure, many of them for the first time. You were the ones who made this thing so toxic that McCain saw the hero opportunity. That pressure, that framing, that relentless force from every corner of the country was what made this win possible. This took all of us.
There are more fights to come. Zombie TrumpCare could be dead or could be back in the not-too-distant future. But this was a huge win. And every single one of you own it.